What is phonics?
Phonics is a way of teaching children to read quickly and skilfully using sounds. There are 44 sounds in the English language, which we put together to form words. These sounds can be represented by one letter, like 'a' or by two or more letters, like 'ch' and 'air'. With phonics, children are taught how to:
recognise the sounds that each individual letter makes
identify the sounds that different combinations of letters make – such as 'sh' or 'oo'
blend sounds together from left to right to make a word
Children can then use this knowledge to 'de-code' new words that they hear or see. This is the first important step in learning to read. Phonics is the most effective way of teaching young children to read.
Letters and Sounds Phonics Programme
At Holy Cross Catholic Primary School, we teach our children in Reception and Key Stage 1 how to read using the Letters and Sounds Phonics Programme. Letters and Sounds is a synthetic phonics programme. Synthetic phonics is a method of teaching English reading, which first teaches the letter sounds and then builds up to blending these sounds together to achieve full pronunciation of whole words.
The Letters and Sounds Phonics Programme is organised into six phases. Phase One is covered in a nursery setting. Phase Two, Three and Four are taught in Reception; Phase Five is taught in Year 1 and Phase Six is taught in Year 2.
The children in Reception and Key Stage 1 classes are taught phonics in discrete daily sessions. Within their classes, children are grouped depending on the phase they are working in. Children are usually taught a different sound each day, with Friday used as a consolidation day.
Below you can watch a video to see the correct pronunciation of the sounds used when teaching synthetic phonics.
You can download an overview sheet of the sounds for phases 2, 3 and 5 below:
The Letters and Sounds Phonics Programme also features 'tricky words'. These are usually words which don't follow normal spelling patterns or are exceptions to the rules. The children are taught to read these by sight, throughout each relevant phase.
You can view a copy of the tricky words below: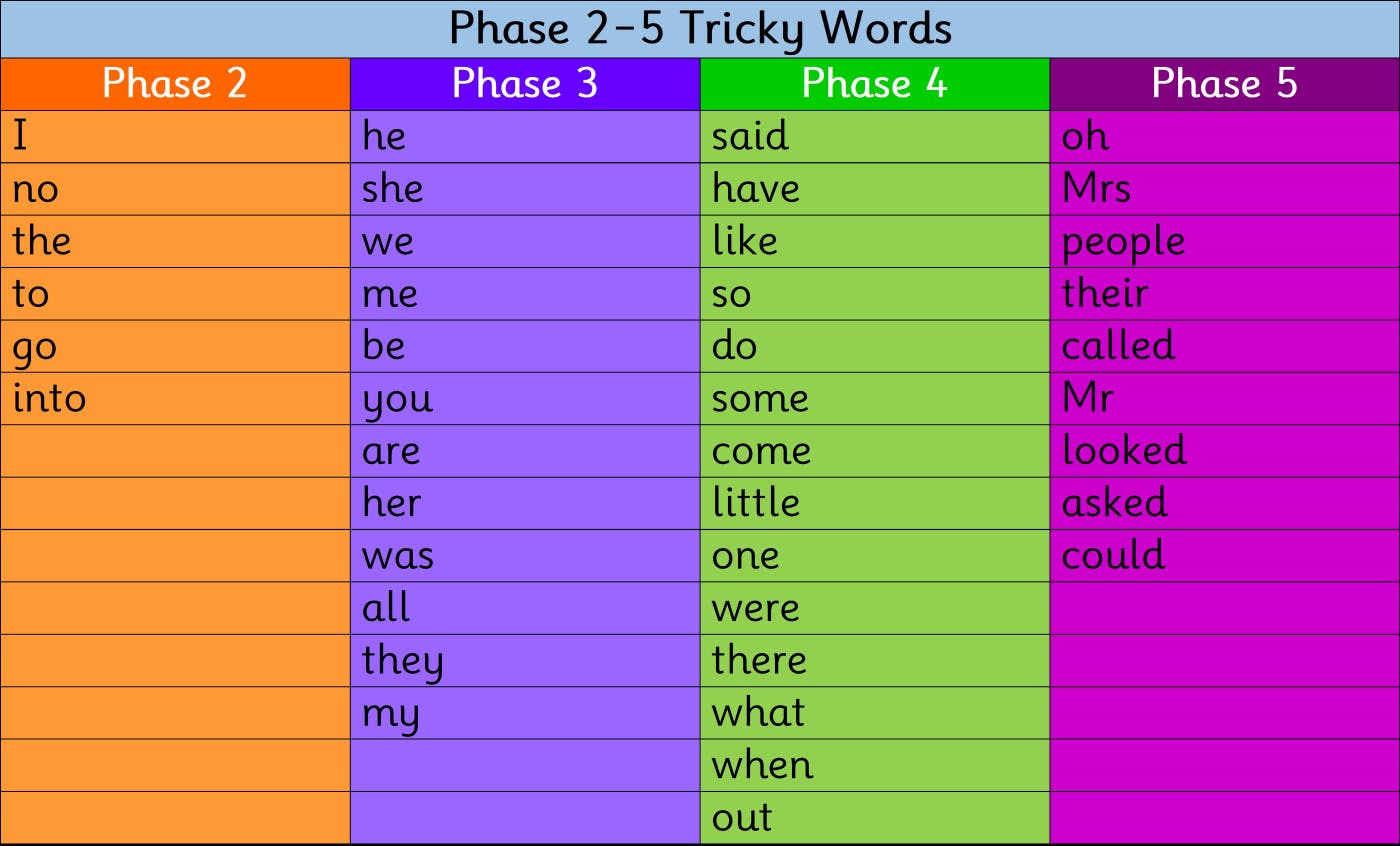 Year 1 Phonics Screening Check
In Year 1, children are required to undertake a phonics screening check. This is a quick and easy check of your child's phonics knowledge. During the check, your child be asked to read 40 words aloud. Your child may have read some of the words before, while others will be completely new.  The check contains a mix of real words and pseudo words (or 'nonsense words'). The children will be familiar with these because we will have already used pseudo words during phonics activities.
The inclusion of pseudo words is important because words such as 'vap' or 'jound' are new to all children. Children cannot read the pseudo by using their memory or vocabulary; they have to use their decoding skills. This is a fair way to assess their ability to decode.
The check normally takes just a few minutes to complete and there is no time limit. If your child is struggling, the teacher will stop the check. The check is carefully designed not to be stressful for your child. The check helps your school confirm whether your child has made the expected progress and it usually takes place in June.
You can download a sample from the Year 1 Phonics Check below:
Reading
At Holy Cross Catholic Primary School, we are passionate about reading. Reading can feed a child's imagination and open up a treasure-trove of wonder and joy for curious young minds. We aim to develop a lifelong love of books and reading in all children.
In Reception and Year 1, we complement our phonics learning with the use of Collins Big Cat fully decodable reading scheme books. These reading books are aligned to the progression of the Letters and Sounds phonics programme. This offers children the opportunity to practise the sounds they are learning through a varied and engaging range of fiction and non-fiction books. Upon entering Year 2, most children should have already secured all the sounds and skills necessary to read with a good level of fluency and therefore are able to access the large selection of non-decodable books we have. To provide children with variety and depth in their reading, these come from a range of schemes, such as: Rapid Readers, Oxford Reading Tree, Treetops and Project X.
All of the reading scheme books at Holy Cross are organised into colour-coded book band levels. This ensures that each child has the right level reading book in order to develop their fluency and comprehension skills. It also allows us to monitor progression carefully.
Reading Book Bands

Helping your child with phonics and reading
Phonics work best when children are given plenty of encouragement and learn to enjoy reading and books. You, as parents, play a very important part in helping with this.  Here are some simple steps to support your child in reading:
Try to make time to read with your child every day. Grandparents and older brothers or sisters can help, too.
Your child's teacher will send home reading books containing the right level of phonics for your child. Encourage your child to 'sound out' unfamiliar words and then blend the sounds together from left to right. Your child should be able to work out new words from their letters and sounds, rather than just guessing.
Your child's teacher will also send home phonic booklets to enable your child to further practise the sounds and words covered during their daily phonics lessons. Support your child in reading the relevant pages of these booklets by encouraging them to 'sound out' the words and then repeat the word as a whole.
When reading with your child, talk about their books with them. Look at the cover and discuss what the book might be about. If they have read it previously then ask then to recall the book. Talk about the things that are happening in the story. What might happen next? Ask them if they have enjoyed the book. Can they say why or why not?
Make it fun. Word games like 'I-spy' can also be an enjoyable way of teaching children about sounds and letters. You can also encourage your child to read words from your shopping list or road signs to practise phonics.
Be a positive reading role model. As well as hearing your child read, read to them. Share stories daily if you can.